Réalisateur: James Wan
Acteurs: Jason Momoa, Amber Head, Patrick Wilson…
Genre: Action, Aventure
Date de sortie: 19 décembre 2018
Durée: 2h24
Nationalité: Américain
On aime Marvel et DcComics même le premier a une grande longueur d'avance sur son confrère. Troisième film solo (après Man Of Steel et Wonder Woman), Aquaman réussit à rattraper le retard de son studio.
Synospis: Les origines d'un héros malgré lui, dont le destin est d'unir deux mondes opposés, la terre et la mer. Cette histoire épique est celle d'un homme ordinaire destiné à devenir le roi des Sept Mers.
Aquaman est le blockbuster comics par excellence
DcComics et le cinéma c'est souvent un mariage en dents de scie. On adore BvS (surtout en version longue), on ne reviendra pas sur l'accident industriel de Justice League, ni la réussite critique et artistique de Wonder Woman, mais force est de constater qu'on ne sait pas vraiment où veut aller Dc. Sombre, édulcoré, les deux, le studio ne cesse de se chercher.
Après l'avoir furtivement présenté dans Batman Vs Superman et lui avoir donné un rôle conséquent dans Justice League, voici l'origine story de Arthur Curry plus connu sous le nom d'Aquaman.
Le roi des océans n'est certainement pas le personnage le plusieurs emblématique de DcComics mais son arrivée sous les traits de Jason Momoa l'a sans doute aidée.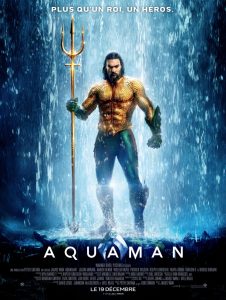 Réalisé par le sauveur de franchises James Wan (Fast and Furious 7), Aquaman est réussi.
Les comédiens sont presque tous bons: de Jason Momoa à Nicole Kidman en passant par Patrick Wilson, Dolph Lundgren ou encore Temuera Morrison. On sera moins indulgent avec Amber Head et Willem Dafoe.
Wan et son équipe ont créé un univers grandiose, un space opéra sous l'eau.
Les créatures sont sublimes, la faune et la flore magnifiques, les costumes crédibles tout en étant kitch, le métrage une excellente direction artistique.
Niveau action c'est un festival. Aquaman ne possède pas des scènes d'actions mais une seule et unique scène pendant 140 minutes. De mémoire de cinéphile, aucune adaptation n'en délivrait autant, c'est royal. La caméra de James Wan ne filme pas l'action, elle l'accompagne, on se croirait chez John Woo.
Les effets visuels sont superbes, la bande originale entraînante et le travail sur le son original.
Wan offre un film d'action grandiose, un métrage romantique crédible, quelques touches d'horreurs exemplaires (scène de La Fosse) et un grand film de super héros.
Certains trouveront le scénario un peu léger ou que le film comporte trop d'effets visuels mais l'ensemble est harmonieux pour emporter l'adhesion.
Aquaman permet à DcComics de redresser la barre. Ce nouveau super héros nous offre une bouffée d'oxygène sous l'eau.
Bande-Annonce du film « AQUAMAN »
Tu as aimé l'article ? Rejoins-nous sur Facebook et Twitter !